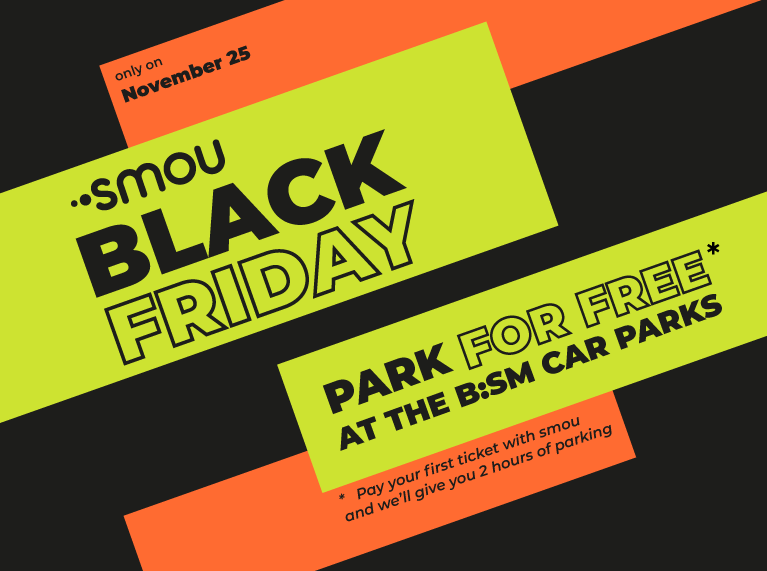 Black Friday is here, only today, November 25, we have a present for you:
If you're new at the app or activate the Parking via app service, by paying your first ticket with smou, get for free 2 vouchers of 1 hour each to enjoy whenever you want at the B:SM Car Parks. 
---
How can you get it?
If you don't have smou yet, download the free app at the App Store or at Google Play.
Create a username and register your vehicle.
Go to the 'Services' section in the side menu and activate Parking via app.
Enter and exit by automatic plate recognition in B:SM Car Parks.

Did you get a paper ticket when entering the car park? Don't worry! Turn it into a digital one with smou to get your present.
Once you have activated the Parking via app service:
Select 'Parking' from the map's bottom bar.
Click on the 'Entry with ticket' button, select your vehicle and scan your ticket.
Your current ticket will be digitised on the app.
When leaving the car park, the barrier will atomatically rise.
The 2 vouchers of 1 hour each will be charged in the 'Discounts' section of the app within a maximum period of 10 days.
The promotion will be valid on Friday, November 25, 2022, from 00:01h to 24:00h at B:SM car parks. It will be applied if the entry and exit of the car park take place during the period of validity of the promotion. 
---
What are the advantages of paying for parking with smou?
Enter and leave B:SM Car Parks by automatic number plate recognition. 
Forget about queues and ticket machines.
Get 30% off when paying with smou.
---
Promotion ended! All the smouers that have paid their 1st ticket with Parking via app, have already received 2 vouchers of 1 hour each into their smou's account, on the 'Discounts' section on the top left menu button of the app.
Thank you!