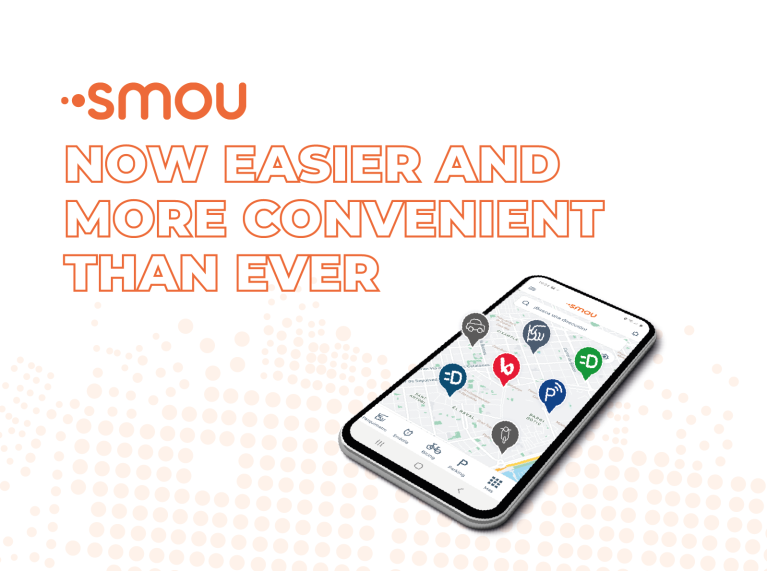 smou continues to evolve and presents a new version that updates the current image of the application and improves its user experience. 
With this update, smou adapts to the new mobility needs of citizens and offers a more complete and personalised app.
 
A more intuitive and personalised design
Since its launch, smou has been growing steadily, progressively incorporating new functionalities and services to offer its users a more complete tool for getting around the city. As a consequence of this growth, the design has also been updated to create a more intuitive, simple and personalised experience.
Personalised map by service: the map will only show the service that the user wants to use and selects from the menu below.
Sorting of services according to usage preferences: users can sort the services according to their mobility preferences to have the ones they use the most in just one click.
Users will be able to define their favourite service: users will be able to mark their favourite service and have it appear on the home screen every time they open the app.
More integration of services in the app
One of smou's objectives is for users to be able to carry out all the operations and procedures of the integrated services from the app itself. Along these lines, the new version presents some important improvements.
Manage your Bicing subscription from the app:

Check the status of your subscription
Check your current rate and change your rate.
Carry out all the procedures related to your Bicing card (activate it, block it, request a duplicate).

End of Endolla subscription notice: people with an Endolla subscription will receive a pre-notification 15 days before the end of their subscription.
New names for parking services:

The service to pay for regulated on-street parking will now be called 'Parking meter' (until now apparkB).
The service to pay for parking by the minute in B:SM car parks will be renamed 'Parking via app' (until now agilPark).
The smou app, constantly growing 
More than 550,000 people already use the app to get around Barcelona and its Metropolitan Area. Since its launch, smou has been an application in a constant process of evolution, to adapt to new mobility needs and to offer a better experience to citizens. With this objective in mind, smou will continue to evolve and, in the next versions, the app will present important new features.