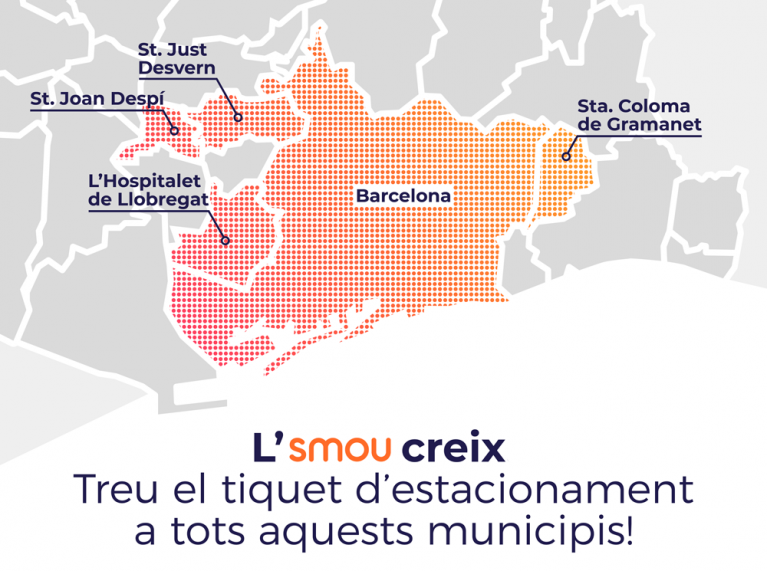 The ApparkB service, included in smou, can now be used to pay for regulated surface-level parking in Hospitalet de Llobregat, Santa Coloma de Gramenet, Sant Joan Despí and Sant Just Desvern
96% of users who pay for per-minute regulated parking with their mobile phones do so through smou
Ubeeqo, a new car-share service, has also been added
Smou, Barcelona's personal-mobility app, which brings together various mobility services, is already growing, just a short time after its publication. The app has been updated to include Ubeeqo, a new car-share service, and the ApparkB service has been extended in scope. The service was previously limited to Barcelona, but now users can also pay for regulated surface-level parking in Hospitalet de Llobregat, Santa Coloma de Gramenet, Sant Joan Despí and Sant Just Desvern.
After just 2 months of operational life, smou has already become the most-used application to pay for per-minute regulated parking. 96% of people who pay via their mobile phones use smou. In this short time, the app has been downloaded over 100,000 times and now has over 85,000 users, who have performed over 300,000 operations.
What's more, this new update includes various improvements which have come about thanks to the comments and suggestions made by these users. They include the relocation of the parking-start button, which has been moved to the main screen to make paying easier and more intuitive. There is also an option for geolocating the vehicle on the map once it has been parked to help users remember where they have parked.
Smou is a constantly-growing, dynamic application, which will continue to evolve and incorporate new services, such as the possibility of accessing B:SM car parks in a seamless way and being able to pay through smou.
Inclusion of the Metropolitan Area
The operational scope of the ApparkB service, which is included in smou, has also been extended in this new update. Users can now use smou to pay for parking in Hospitalet de Llobregat, Santa Coloma de Gramenet, Sant Just Desvern and Sant Joan Despí, as well as in Barcelona. This provides added value for users, who can now move around all of these areas of the city and park their cars using a single mobile application.

This improves the smou experience for users, incorporating new services in an agile, user-friendly way, making access easier.
More information and fully customisable
Users will have direct, centralised mobility information of all kinds at their fingertips, including the services ApparkB, Aparcaments B:SM and the public network of electric recharging points, in addition to information on complementary mobility services.
It also includes all the information about the new Bicing and the Drivy and Ubeeqo car-share services, showing Barcelona's entire network of bicycle lanes. What's more, it provides access to the User Information System (SIU), which predicts the availability of AREA parking spaces in Barcelona for a specific destination and time.
   
There is a map on the main smou screen where all the information is displayed and it is completely customisable. Users can choose the services and information they want displayed at any given time, using filters. The information is shown in a system of layers superimposed on the map, providing a clear, easy-to-understand display of nearby services at all times.
The new app is available for both iOS and Android devices and can downloaded free of charge. Registering is very easy, in the standard way through the app itself, or at www.smou.cat.