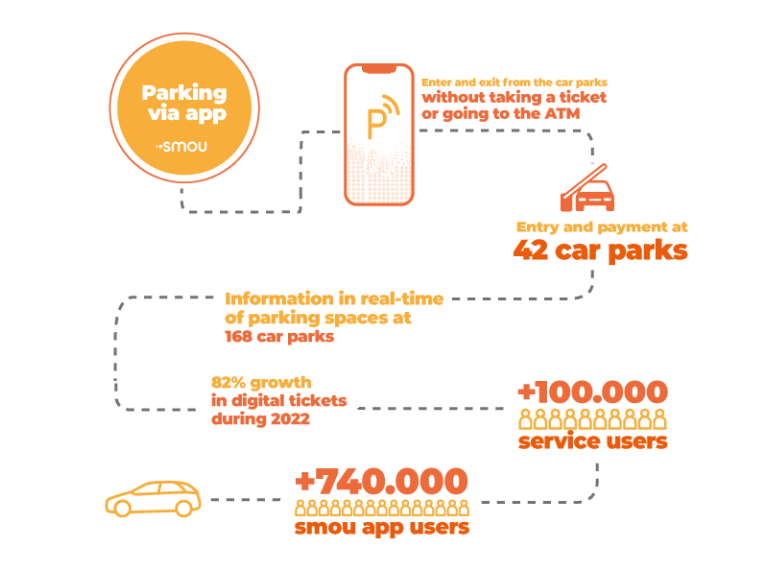 More than 100,000 people already use smou to pay for their stays at the B:SM car parks.
smou, the app that brings together different personal and shared mobility services of Barcelona, keeps to contribute to the transformation of mobility of the city and its Metropolitan Area. Currently, more than 100,000 people use the app to pay for their stays by the minute in the B:SM car parks. The app achieves these figures after the digital ticket service, Parking via app, registered at November 30, 2022, a 66% growth in number of users and a 82% in digital tickets from January 2022.
This service, available in the 42 car parks in the B:SM network, allows you to pay for your stay by the minute via smou, without having to take a paper ticket or go to the cash machine. At the same time, it facilitates the automatic lifting of the barrier by reading the number plate. All this has turned the application into a convenient, practical and secure payment method, which saves time and contributes to saving paper. In addition, smou contributes to improving mobility in the city, as it speeds up the process of entering and leaving car parks, minimising waiting times and traffic jams.
B:SM's commitment to growing the number of digital tickets is also reflected in the current 30% discount for paying by the minute at B:SM Car Parks via smou.
A more organised mobility in a single application
smou puts a multitude of services that promote planned, organised, safe, digital, connected and integrated mobility within the reach of everyone in a single application. In just three years, more than 740,000 people use the application every day to move around the city and the Metropolitan Area, contributing to sustainability.
At this time, smou app allows you:
Know the location and information in real-time of the available parking spaces in the car parks of the city of Barcelona.
Pay the parking meters by minutes of the Green and Blue areas in Barcelona and 10 municipalities in the Metropolitan Area.
Manage and pay your parking tickets in the Green or in the exclusive parking spaces for residents in the city of Barcelona.
Book and take Bicing, and also know the availability forecast.
Consult the city's cycle lanes and trace the most suitable route for pedalling.
Charge electric vehicles with Endolla Barcelona.
Locate at app's fully customisable map, the car, motorbike and bike sharing operators in the city of Barcelona.
Check the timetables and localte stops and stations of Metro, TMB Bus, TRAM, Metropolitan Network Bus, Ferrocarrils de la Generalitat de Catalunya and Rodalies de Catalunya.
Create customizable routes with 'How to get there', using public transport, bicycle or car to got from one place to another in Barcelona and the Metropolitan Area.
 
The app will grow with the goal of improving and hel you with your personal mobility.