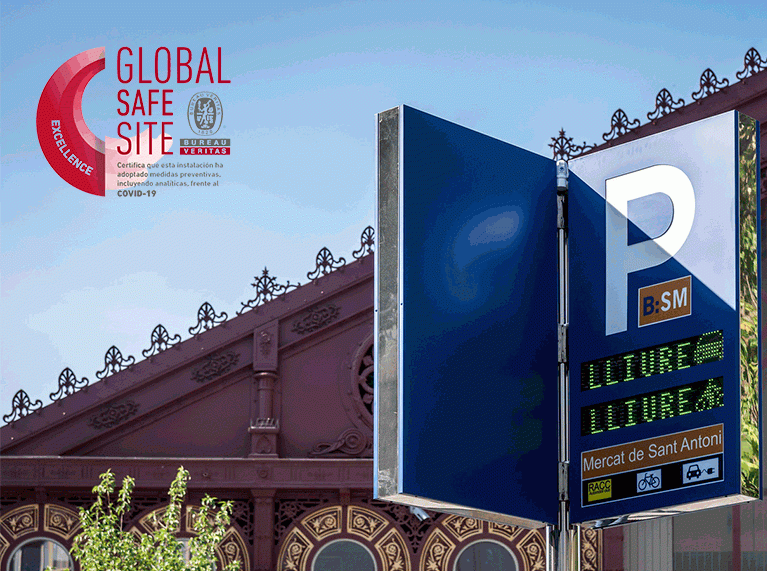 In February 2021, the B:SM Car Park Network has renewed its Global Safe Site Excellence certification. 
This certification ensures compliance with good prevention practices and covid-19 surface tests derived from the correct implementation of the hygiene, safety, cleaning and disinfection prevention procedures required to deal with the pandemic caused by the coronavirus.
The original certification was granted on 24 July 2020 and to obtain this renewal, the prevention protocols have been re-audited and verified, as well as exhaustive covid-19 surface tests have been carried out.
The Global Safe Site certification encompasses the three main areas of action in the facilities of the B:SM Car Park Network: people, processes and facilities. The operation consists of identifying the different variables to be analysed in each case and evaluating disinfection, safety and hygiene, according to current legislation, in addition to carrying out tests on different surfaces to determine the presence of covid-19 and validate compliance with all the points established in the current legislation.
The certifying agency Bureau Veritas, the world leader in verification, inspection and certification, has been in charge of auditing and verifying that all the measures set out in the protocols are carried out in the prescribed manner. And the certification has been obtained with an Excellence qualification, which guarantees the monitoring of the disinfection and cleaning protocols, as well as the implementation of the pertinent security measures for the protection of workers, customers and visitors of the Car parks of the B:SM Car Park Network.
Cleaning and Disinfection Protocol
For the safety of employees, customers and visitors of the B:SM Car Park Network, we clean and reinforce the disinfection of surfaces or points of frequent contact every day, such as:
• Common areas
• Automatic Teller Machines
• Control cabinets, dashboards, tables, chairs, computers and other office tools for staff
• Toilets, taps and electric hand dryers
• Elevators and buttons
• Interphones
• Banisters and handrails
• Door handles and knobs

Prevention Recommendations:
• The mask must be worn correctly in all the facilities.
• Using the hydroalcoholic gel dispensers available in all car parks.
• Respecting the safety distance of 2 meters with other people.
• Taking the elevators individually and respecting the preferential use of people with reduced mobility.
• Using the toilets individually and respecting the indications of hygiene of hands and the existing signs of prevention.