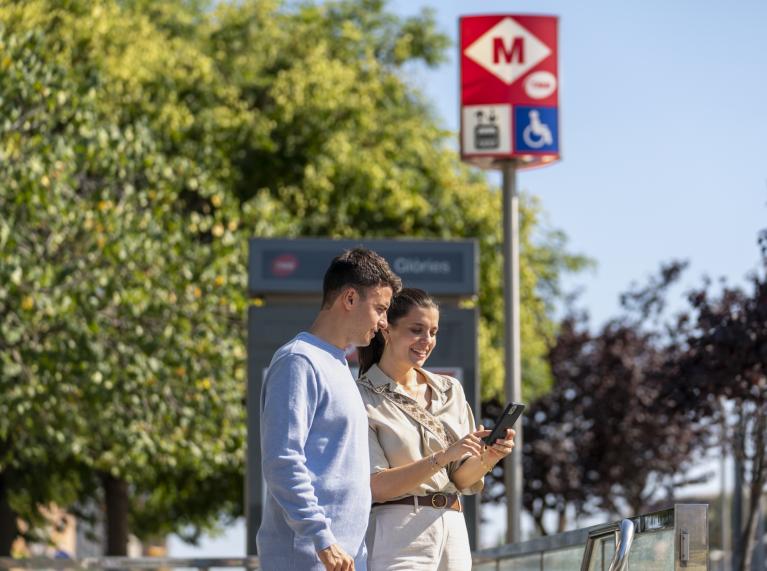 Smou celebrates its fourth anniversary this February with record numbers. One out of every two city inhabitants of Barcelona uses smou to move around the city.  Already 800,000 people use the app promoted and managed by Barcelona de Serveis Municipals (B:SM). In the four years that it has been in operation, the number of smou users has multiplied by 16.
Currently, the app integrates around twenty mobility services. It includes solutions such as 'Bicing', the recharging points of the 'Endolla Barcelona' network, the payment for regulated on-street parking by the minute with the 'Parking meter' service, and access and payment at the B:SM Car Park Network with 'Parking via app', as well as the management of AREA parking spaces for residents with 'Barcelona Residents'. Bike, car, and motorbike sharing services or real-time public transport information can also be consulted in smou.
Last year, smou registered a total of 16.4 million operations. This is almost 45,000 daily operations, five times more than during the first year of operation. The most used services were 'Bicing' and 'Parking meter', with 11.5 and 4.7 million annual operations respectively.
Throughout 2022 and with the aim of contributing to planned and more sustainable urban mobility, the application incorporated new differential functionalities:
The 'Barcelona Residents' service, which allows residents to manage AREA parking spaces.
The 'Bicing' predictive function, which provides information on the probability of finding a bike or a free space at stations 15 or 30 minutes in advance.
Real-time information on stops, stations and schedules for Bus, Metro, Tram, Rodalies and Ferrocarrils of the Generalitat de Catalunya.
The "How to get there" feature, which allows you to search and plan the best route to get from one point to another in Barcelona and its metropolitan area, whether by public or private transport, and locate the available parking options at your destination.
Real-time consultation of information and availability of spaces in more than 200 parkings from different operators in Barcelona.
Plan, book and pay via smou
The usage numbers and functionalities incorporated in recent months consolidate smou's success as the app of choice for those who move around Barcelona. Promoting planned and sustainable urban mobility continues to be our main objective, and that is why we are working to expand our range of services and enhance the usability of the app.
In addition, smou is planning to make it possible to consult, book and also pay for as many services as possible via smou. This will make smou a true Mobility as a Service (MaaS) tool, offering Barcelona users personalized route, booking and payment options according to their needs.
We continue to work so that you can move more and better.
Download smou at Google Play or at the App Store